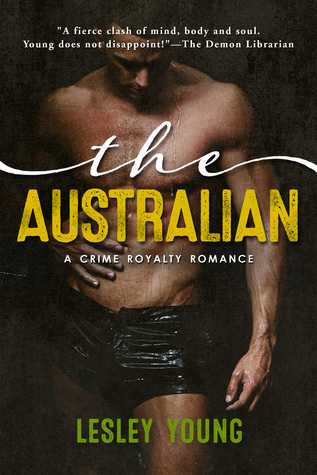 Charlie Sykes takes everything and everyone at face value—and believes life would be a lot easier if everyone else did, too. Aussie Jace Knight, international hotelier and purported playboy, has never met anyone like the absurdly literal and obliviously beautiful American who applies for his personal assistant position. The trouble is, how do you pursue a woman whose definition of flirting comes straight out of the Merriam-Webster Dictionary? That, and he's not the only one after Charlie. Seems Mr. Knight might not be a reformed criminal after all.
Soon, Charlie's immersed in a whirlwind of international espionage that takes her from the hip streets of Sydney to the majestic Great Barrier Reef and the wild, desolate outback. A dangerous trap's being set, but how will Charlie protect herself and prevent a tragic betrayal, when she can't even sort out what her heart's telling her?
The Australian by
Lesley
Young
(Crime Royalty Romance #2)
Publication date: March 27th 2015
Genres: Adult, Romance
I swung my legs around and glanced up into his eyes. Night was just beginning to fall. I had left the window open and a lovely breeze swept across our veranda lifting the curtain behind him. He had added a dress jacket to his dark blue jeans and mauve dress shirt. I picked up the familiar scent of his cologne, sandalwood and lime. His giant gold Rolex glowed in the light. His eyes held nothing but darkness.
I breathed out, smoothed my hair, and spotting my heels, leaned over to strap them on.
"Do you know why I hired you, Charlie?"
What a peculiar question. I was about to answer yes, when I realized, given my lack of hospitality and personal assistance experience, no, actually I could not be sure. I shook my head as I took his hand and rose to stand. His brow was stern and his mouth was flat.
"Your's was the first pair of eyes I stared into in a long time, ever really, that I could see straight through to the bottom."
Oh. He must be speaking figuratively. Was that a compliment? His thumb rubbed my hand like it was a feather. Perhaps he was practicing pretending to be lovers?
"Maybe that was wrong of me, to think how I wanted to keep you like that forever. Maybe hiring you, bringing in you close . . . maybe that'll change you."
I stared up at him, hearing my heart pound. Wait. Maybe . . . he was suspicious.
"Are you saying you regret hiring me, Mr. Knight?" I tugged my hand free.
I could not meet his eyes.
"No." I did not dare look in his eyes. "But I'm worried I will," he stated flatly. He stepped close after I stepped away. "Look me in the eye, Charlie, and tell me I won't regret hiring you," he demanded suddenly, his voice calm, deep and impending.
I need a glass of water to swallow my heart back down.
What had happened? Why this sudden strangeness?
The Frenchman (Crime & Royalty Romance #1)
Fleur Smithers rarely veers off the straight and (excruciatingly) narrow. So moving to the seaport town of Toulon to live with her newfound biological mother—an inspector with the French National Police—for one year is a pretty major detour.
Son of France's crime royalty family and international rugby star, Louis Messette, is devoted to his sport, famille and nothing else. But the carefree American he meets one night changes everything. She sparks a desire in him like no other. Possession takes root. She will do as he commands.
Bit by bit Fleur slips into the Frenchman's realm of wanton pleasure agreeing to his one condition: that she keep their affair secret. She serves up her heart without reservation in the hub of the glittering Côte d'Azur, and the along the soulful Seine in Paris, unaware of the danger she is in. For her new lover's family business will pit her against her mother, the police woman sworn to bring down the Messettes. And by then, far more than Fleur's heart will be on the line.
Lesley
Young is a genre-defying author of unforgettable heroines who experience thrilling life- and love-altering journeys. Her debut novel was Sky's End; her most recent stand-alone series, Crime Royalty Romance, includes The Frenchman and The Australian. She loves to hear from readers.