I left home because I didn't want to end up in a cage like a lab rat. Hitching rides, begging for cash, and sleeping on the ground got old fast. That was the only reason I braved an overgrown path to a group of buildings. I'd hoped to find a bed and a decent night's sleep. However, what I found was a place overrun by werewolves.
While on the run, Charlene finds herself surrounded by werewolves, creatures she can't control with her mind like she can humans. Their existence has her believing she's found a safe place to stay, a place where secrets are okay. However, she soon discovers she's anything but safe. Charlene must learn how to use her abilities to influence the strange new species because if she can't, the next bite she suffers might just kill her.
Read how the cycle begins, and have no doubt. Charlene's past will shape the future of the Judgements.
(Un) Bidden by Melissa Haag
Release Day Blitz
Hope(less) (Judgement of the Six #1)
Gabby's brain is like a human fish finder. It comes in handy when she wants to avoid people. Mostly men. They seem to like her a bit too much. It's lonely being different, but she's adapted to it. Really. She just wishes she knew why she is different, though.
In her search for answers, she discovers a hidden community of werewolves. She immerses herself in their culture, learning about their world until she meets Clay. He's unkempt, prone to mood swings, intense without saying a word, and he thinks Gabby is his.
It's going to take every trick she knows to convince Clay to go away, and every bit of willpower not to fall for him when she discovers the man beneath the rough exterior.
Delve into a riveting world of werewolves and young women with unexplained abilities, in Hope(less).
(Mis)fortune (Judgement of the Six #2)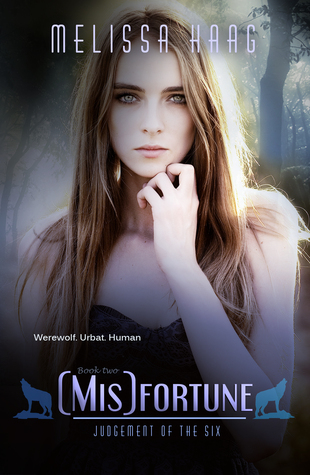 Our world is being judged and even they remain unaware.
Michelle, another young woman with an unexplainable gift, finds herself surrounded by the previously undiscovered werewolf society. Kept prisoner for the predictions that torment her, she meekly follows orders waiting for her opportunity to run. When her stepfather dies, she takes a chance and escapes.
After witnessing Blake, her captor, grow canines, she knows he will do anything to find her. She needs a place to hide and someone to listen to her predictions so her head doesn't explode, but knows there's nowhere she can hide forever, and no one who can protect her… unless she can find someone just like him.
Part of the fur wearing faction wants to use her, another part strives to keep her safe. The second book of the Judgement of the Six series will raise more questions about the purpose of these gifted few and Michelle will need to fight for answers. Will what she discovers be enough to help her keep those she loves safe from an emerging evil?
(Un)wise (Judgement of the Six #3)
The dreams start and Bethi's very normal life goes down the toilet. Reliving past lives, where Dog-men chase her and she sees her eventual tormented death, Bethi sets out to find a way to live this time around. The dreams hint at an answer. She needs to be strong enough to find it, or die…
The third installment of the Judgement of the Six answers questions, questions answers, and risks the fate of the world.
Melissa Haag currently resides in Wisconsin with her husband and three children. Touch is her first published novel. She is currently working on book five of a separate six book series. To learn more about her upcoming projects, visit her at: http://melissahaag.com , and you can connect with her on: https://twitter.com/imagine2live

& https://www.facebook.com/author.MelissaHaag

Hosted by